Fox Theatre Oakland Information
Opened in 1928, originally, Fox Theater was due to be named "The Bagdad," due to its Middle Eastern and Indian-inspired architecture and decoration, but was introduced to the public as the "West Coast Oakland," as part of the West Coast Theatre chain.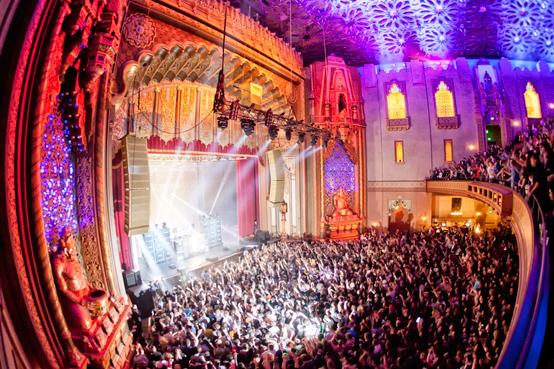 The year after opening, the theatre was renamed the "Fox Oakland," when William Fox bought the West Coast Theatres chain and merged it with his Fox Theatres chain, introducing "talkies" to the theatre in place of silent movies. Despite its popularity over the years as a movie palace, attendance significantly dropped in the 1960s and Fox Theatre closed "temporarily" on September 14, 1965.
In the decades that followed, the theatre was used sporadically for various performances, but it remained mainly untouched until it was purchased by the Oakland Redevelopment Agency in 1996, who raised $75 million for an elaborate restoration. February 2009 saw the reopening of the theatre, marked with a "roaring twenties" themed celebration, that ushered in a new era as a state of the art concert hall.