Fox Theater Oakland | Oakland, California
English ska legends The Specials will perform live at Fox Theater Oakland on Thursday 21st June 2018! The 2 Tone icons will be performing hits from their four-decade career, including hits like "Too Much Too Young" and "Ghost Town"! Get ready to skank all night, rude boy, as this iconic group get the crowd going!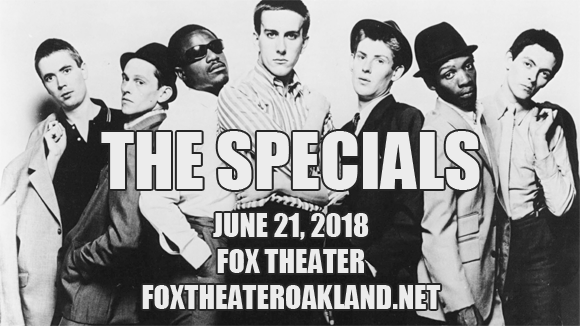 English 2 Tone and ska revival band The Specials was formed in 1977 in Coventry, England. Known at the time as The Special AKA, the band was "discovered" by Joe Strummer of The Clash, who invited them to open for his band on their "On Parole" UK tour. Known for their iconic "rude boy" fashion and political, anti-racist songs, the band made waves with their 1980 single "Too Much Too Young" from the EP The Special AKA Live!, which reached number-one in the UK. The band continued to release seven consecutive UK Top 10 singles between 1979 and 1981 and, after a drastic change in line-up, they had a 1984 hit with "Free Nelson Mandela". The group dissolved soon afterwards, but re-formed in 1993 and they continue to perform and record with varying line-ups.