Fox Theater Oakland | Oakland, California
Psychedelia fans, we have a MASSIVE event coming up for you at the Fox Theater Oakland! The The Flaming Lips are on tour in support of their brand new album "Oczy Mlody"! See them on Wednesday 10th May 2017!! Tickets on sale NOW – don't delay in getting yours!!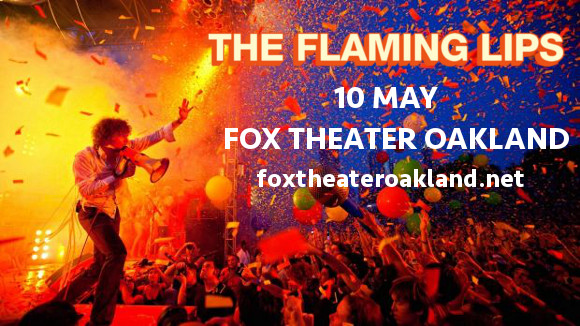 Formed in Oklaholma City in 1983, The Flaming Lips quickly carved out their place in popular music culture. Truly unique among artists, their sound features psychedelic rock arrangements with many layers. In terms of lyrics, their songs show elements of space rock with their unusual, speculative, metaphysical lyrics and long song and album titles such as "What Is the Light? (An Untested Hypothesis Suggesting That the Chemical [In Our Brains] by Which We Are Able to Experience the Sensation of Being in Love Is the Same Chemical That Caused the "Big Bang" That Was the Birth of the Accelerating Universe)".
Recording a few albums on the indie label, Restless in the 80s and 90s, they went on to sign to Warner Brothers, achieving a smash hit in 1993 with "She Don't Use Jelly" and going on to achieve worldwide critical respect and a devoted fanbase. In 2007, they were nominated for a BRIT Award in the "Best International Act" category, and by 2007, were the proud owners of three Grammy Awards, including two for Best Rock Instrumental Performance.
Named by Q magazine as one of the "50 Bands to See Before You Die," you truly can't afford to miss the Flaming Lips!