Fox Theater Oakland | Oakland, California
Exciting announcement! The Dirty Heads is hitting the Fox Theater Oakland on Friday 24th November 2017! If you're a fan of fellow bands such as SOJA, AER, Sublime, 311, Nahko and Medicine for The People and other acts on the Reggae/Hiphop scene then there's no doubt in mind that you will LOVE Dirty Heads! If you're looking for a live concert to add to your must-see list before the year is over then, whatever you do, don't miss it – tickets are bound to sell fast so snap up yours while you can!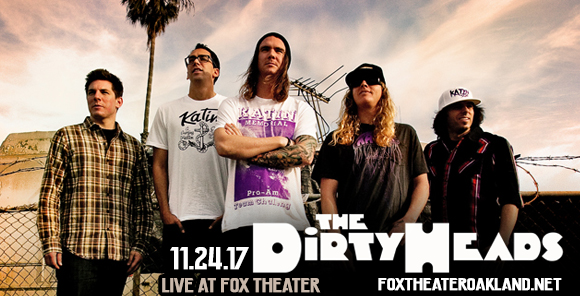 Hailing from Huntington Beach, California, is the one and only, Dirty Heads! Full of feel good rhythms, upbeat lyrics, hard hitting beats and influence from Reggae/Ska/Hiphop genres is Dirty Heads. These guys are truly kicking up a storm around their exciting music and their live shows are definitely one that shouldn't be missed.
With ten solid years under their belts… Jared "Dirty J" Watson and vocalist/guitarist Dustin "Duddy B" Bushnell began writing and performing together back in 2006. After first meeting at a party and swapping their demo tapes, the rest was history, with their backgrounds of Punk Rock + Hiphop, the two began to collaborate and transform their lives into one that is dedicated to the same thing – music. Now with their group that is touring across North America, performing with so many of the greatest bands in the genre, Dirty Heads are reading to headline! Come and show your support as we round off the year with an incredible concert to leave you feeling positive and shining!