Fox Theater Oakland | Oakland, California
Back on their first tour in five years, hilarious, musical filth-meisters Tenacious D are headed to Fox Theater Oakland on Tuesday 18th December 2018 to rock your socks!!! The duo have brand new material from their long-awaited upcoming fourth studio album Post-Apocaypto and they will no doubt sing some 'D classics like "Tribute", so get ready to laugh and holler all night long!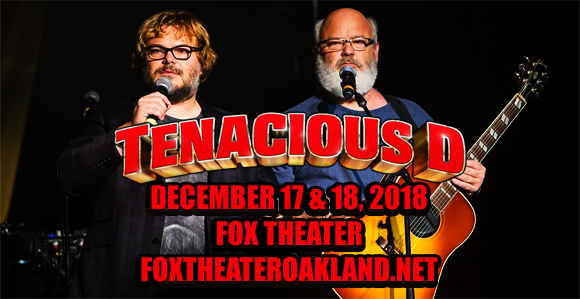 American rock band Tenacious D was formed in Los Angeles, California in 1994 by actors Jack Black and Kyle Gass, who met when they were both part of The Actors' Gang theater company. In the mid-1990s, on the strength of a demo tape called Tenacious Demo, the duo was offered a TV show by HBO. The three-episode series was called Tenacious D and premiered on HBO in 1997, broadcasting from 1997 through 2000. The band released its debut album featuring a full band (including Nirvana/Foo Fighters drummer Dave Grohl on drums), Tenacious D, in 1999 and was signed to Epic Records the following year. In 2006, the duo starred in, and recorded the soundtrack for, the film Tenacious D in The Pick of Destiny. Black and Gass won the Grammy Award for Best Metal Performance for their cover of "The Last in Line" on the Dio tribute album This Is Your Life at the 2014 awards ceremony. They are currently working on their fourth studio album, Post-Apocalypto.