Fox Theater Oakland | Oakland, California
Fans of proper blues and rock, we've got an amazing show for you!! The raw, rich sound of the Tedeschi Trucks Band is coming to a venue near you – the Fox Theater Oakland on the 17th November 2017 to be precise!! Known for their soulful, moody, yet powerful live performances, the Tedeschi Trucks Band will rock your world! Those who've seen them already will be hankering after the chance to see them again, and those who haven't MUST! Just hit the "Buy Tickets," button above – we can guarantee you won't regret it!!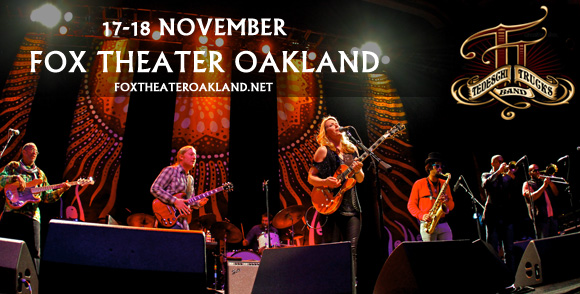 Formed by Susan Tedeschi and Derek Trucks in 2010 (after having toured together previously as separate acts) the Tedeschi Trucks band set about bringing back the reality to a world saturated by electronic pop. Their first album, "Revelator," was a massive success, gaining popularity in the UK as well as Canada. It went on the win the Grammy Award for Best Blues Album!
Held in high regard for Derek Trucks' skilful lead guitar playing and Susan Tedeschi's huge, yet beautifully controlled vocal performance, a Tedeschi Trucks concert is more than just an audio and visuals show – its a full-on sensory experience that will touch the soul of any blues fan. What are you waiting for? Those tickets aren't going to hang around forever!