Fox Theater Oakland | Oakland, California
Infusing their raw, indie-punk flavor with more gothic influences this time around, as evidenced by their recent single "Hurry on Home", Sleater-Kinney comes to Fox Theater Oakland on Saturday 16th November 2019 to promote their brand new album, The Center Won't Hold! The three-piece are still politically driven as ever, but are leaning into the personal for this record, and it makes for some incredible new tunes! Don't miss this dynamic trio live!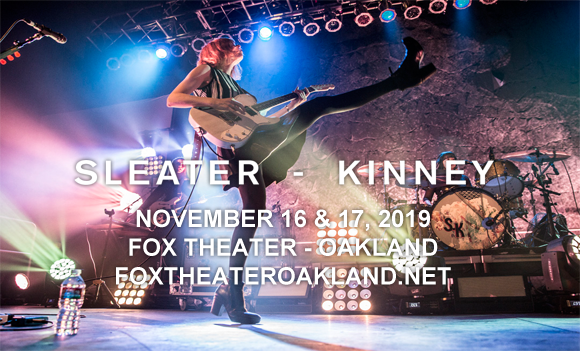 Formed in 1994 by by Corin Tucker and Carrie Brownstein, American indie rock band Sleater-Kinney's line-up also features Janet Weiss, who is the band's longest-serving drummer. The group made its debut in 1995 with a self-titled album that drew influence from the riot grrrl acts of the early 1990s. Over their following seven albums, that band made a name for themselves as one of the most important indie-rock outfits of the late-1990s/early 200s, until they disbanded in 2006. The band reunited in 2014, and have since released two albums: No Cities to Love (2015) and Live in Paris (2017). Produced by Annie Clark (aka St Vincent), the band's ninth studio album, The Center Won't Hold, is released this year.