Fox Theater Oakland | Oakland, California
The ever-amazing punk rock trio Sleater-Kinney are headed to Fox Theater Oakland on Sunday 17th November 2019 for the second night in a row! Bringing their brand new, St Vincent-produced, album to the stage, the three-piece are embracing a new, darker flavour and it's gonna make for one incredible show!
"If you've seen Sleater-Kinney live at any point in the past 20 years, you know that they have long been one of the greatest bands on the face of the planet. And part of what makes them so great is their furious, in-the-moment intensity. They've always reacted to their own music with the visceral physical force it deserves." – stereogum.com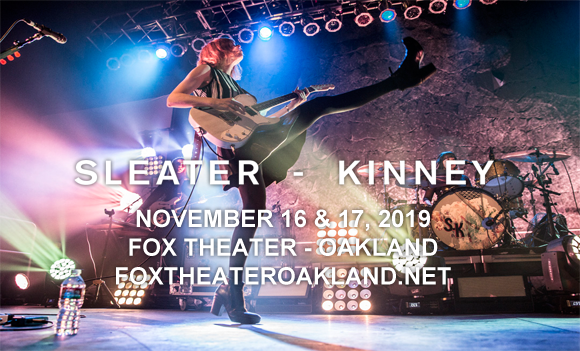 Formed in 1994 by by Corin Tucker and Carrie Brownstein, American indie rock band Sleater-Kinney's line-up also features Janet Weiss, who is the band's longest-serving drummer. The group made its debut in 1995 with a self-titled album that drew influence from the riot grrrl acts of the early 1990s. Over their following seven albums, that band made a name for themselves as one of the most important indie-rock outfits of the late-1990s/early 200s, until they disbanded in 2006. The band reunited in 2014, and have since released two albums: No Cities to Love (2015) and Live in Paris (2017). Produced by Annie Clark (aka St Vincent), the band's ninth studio album, The center Won't Hold, is released this year.