Fox Theater Oakland | Oakland, California
There's only one place to be if you're a fan of Noel Gallagher's and thats catching his LIVE band in concert this coming Spring. Noel Gallagher's High Flying Birds are more than ready to hit the road and you can catch them right here. Their exciting show takes place at Fox Theater Oakland on Saturday 10th March 2018 – tickets are available now, but are bound to sell fast so don't wait too long!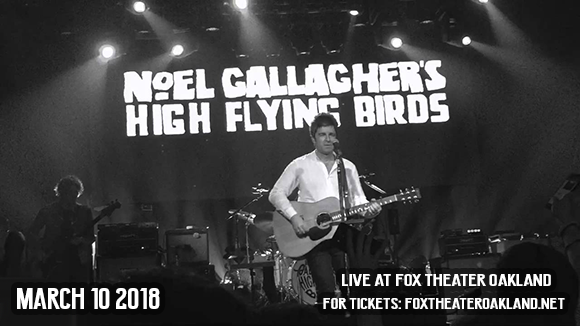 After being part of the legendary English rockers, Oasis, Noel Gallagher has formed a brand new solo project, embarking on new journeys as part as the High Flying Birds. Formed in 2010, the group consists of part of their former band, Gem Archer the guitarist from Oasis, session pianist Mike Rowe, drummer, Chris Sharrok and the added member of The Zutons bassist, Russel Pritchard – what a combination!
As they all began writing together and producing albums, they have always been up for collaborations, some of the artists to feature on their debut record included; Crouch End Festival Chorus and The Wired Strings.
Noel Gallagher has made it clear to Oasis fans that this is what he is doing now, with his sole dedication to Noel Gallagher's High Flying Birds. As he talked about on the UK talk show, Jonathon Ross Show, the inspiration for the band name came from his love of classic music. After listening to Peter Green's Fleetwood Mac and "High Flying Bird" by Jefferson Airplane – it was settled, a new avenue began.