Fox Theater Oakland | Oakland, California
Dazzling troubadour Neko Case will be bringing her intelligent country-noir songs to Fox Theater – Oakland on Monday 3rd December 2018! The lauded solo artist and New Pornographers collaborator has just released her eighth studio album, Hell-On, and will be thrilling fans with her brand new material! Prepare for to be submerged into a world of musical fairytales at this very special show!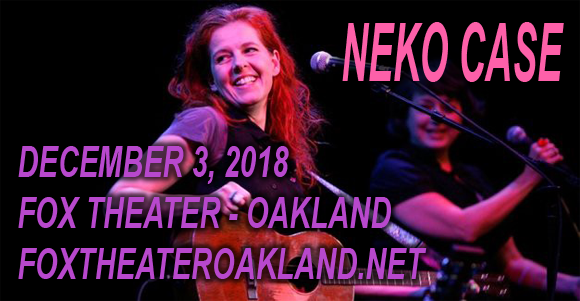 First coming to prominence as a vocalist with The New Pornographers, providing vocals for their debut album Mass Romantic (2000), American singer-songwriter Neko Case is also known for her country music solo career. Case released her debut album, The Virginian, in 1997 under the name Neko Case and Her Boyfriends, dropping the "& Her Boyfriends" by the time her third album, Blacklisted (2002), was released. Over the years, Case has continued to record and perform with The New Pornographers and, as a solo artist, has released eight studio albums, as well as collaborating with a plethora of different artists – contributing to a variety of different songs and albums, including the 2016 album case/lang/veirs which she recorded as a supergroup alongside k.d. lang, and Laura Veirs. Her most recent album, Hell-On, was released in 2018.