Fox Theater Oakland | Oakland, California
British singer-songwriter Lily Allen is back with a hot new album, and she's bringing her world tour to the US! Headed to Fox Theater – Oakland on Saturday 6th October 2018, the confessional artist will be performing tracks from the new record, titled "No Shame":
"I believe that we as humans work through things by talking about them, and that's what making music is, for me. It's sharing things that you hope are going to connect with people, not that are going to connect with algorithms," Allen said about the catharsis from working on her new album. "I think we are so led by outside forces in terms of the way we express ourselves nowadays, because we're so scared of what comes back. It's something I've always wanted to explore. It's why I went into it at the beginning, when it felt a lot more free."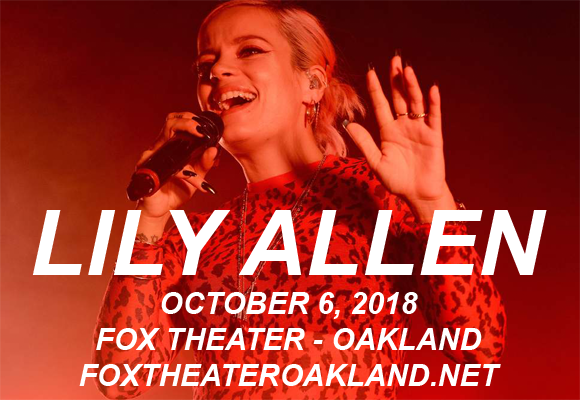 English singer, songwriter, actress, and television presenter Lily Allen came to public attention in 2005 via Myspace. After airplay from BBC Radio 1, she launched her debut single "Smile" in 2006, which went straight to number-one in the UK charts. This was followed by her debut album, Alright, Still, which sold over 2.6 million copies worldwide and earned Allen nominations at the Grammy Awards, Brit Awards and MTV Video Music Awards. It's Not Me, It's You (2009), Allen's second album, debuted at number one on the UK Albums Chart and the Australian ARIA Charts and won her the Brit Award for British Female Solo Artist at the 2010 Brit Awards. After a brief hiatus form music, Allen started her own record label in 2011 and released her third studio album, Sheezus, which also debuted at number-one on the UK Albums Chart, two years later. Her fourth, and latest, studio album, No Shame, was released in June 2018.