Fox Theater Oakland | Oakland, California
Having spent most of 2017 touring with indie collaborator Courtney Barnett, Kurt Vile is back with his first solo release in three years and now he's back on the road with his backing band The Violators! Coming to Fox Theater Oakland on Wednesday 12th December 2018, Vile is performing as part of an extensive, worldwide track, bringing fans brand new material, as well as familiar songs from his mammoth back catalog! Vile will be joined in support by endearing country-folk act Jessica Pratt!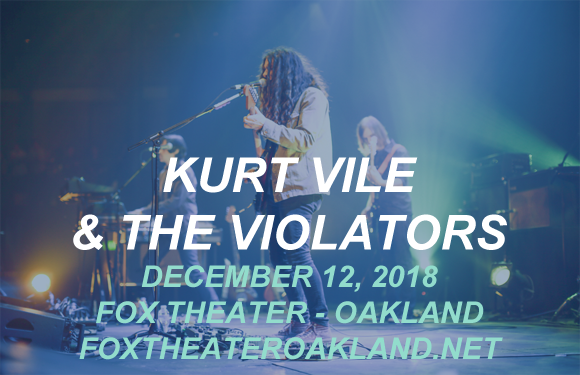 First coming to public attention in 2005 as the lead guitarist of Philadelphia-based rock band The War on Drugs, Kurt Vile is an American singer, songwriter, multi-instrumentalist and record producer. While Vile formed The War on Drugs with fellow musician, songwriter and best friend Adam Granduciel in 2005, his solo work dates back as far as 2003. Vile left the band in 2008 to concentrate on his solo work, and now performs and records with a backing band, The Violators, formed of Jesse Trbovich (bass, guitar, saxophone), Rob Laakso(guitar, bass) and Kyle Spence (drums). Vile's debut album, Constant Hitmaker, was released in 2008. To date, he has released sixteen solo EPs and seven solo studio albums, including 2017's Lotta Sea Lice, which was a collaboration with fellow indie singer-songwriter Courtney Barnett. The album was a critical success, appearing of several "Best of 2017" lists. Vile's next studio album is slated for a 2018 rleased and is titled Bottle It In.