Fox Theater Oakland | Oakland, California
Celebrating 20 years since the release of their renowned sophomore album Version 2.0, alt-rock veterans Garbage are headed to Fox Theater Oakland on Wednesday 3rd October 2018 for a night of nineties nostalgia! The record that launched the singles 'I Think I'm Paranoid', 'Push It', 'Special', 'When I Grow Up', 'The Trick Is To Keep Breathing' and 'You Look So Fine', Version 2.0 will be played for fans in its snarling electro-grunge entirety – a treat for all Garbage fans!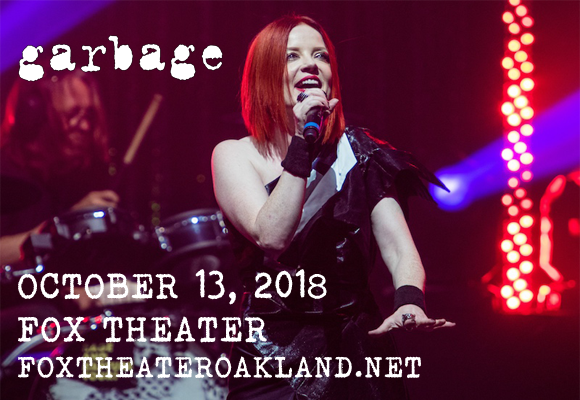 Scottish–American alternative rock band Garbage formed in Madison, Wisconsin in 1993. The band's critically acclaimed, self-titled 1995 debut album sold over 4 million copies and was certified double platinum in the UK, US and Australia. The band's follow-up, Version 2.0 (1998), was similarly successful, earning two Grammy Award nominations and topping the UK Albums Chart. A year later, the band performed and co-produced the theme song to the James Bond film The World is Not Enough. The band's sixth, and most recent, studio album is 2016's Strange Little Birds. A seventh studio album is slated for release in 2019.