Fox Theater Oakland | Oakland, California
Known for its commitment to providing outstanding entertainment from the world's top talent, Fox Theater Oakland is truly outdoing itself this time! We bring you the fantastic Flogging Molly with the White Buffalo on Thursday 4th May 2017! Tickets are currently available for this exceptional show, but be quick – they won't last long!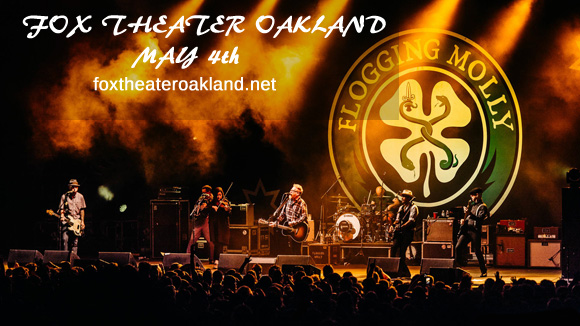 Formed in Los Angeles, California, U.S, 1997 Flogging Molly are an Irish-punk band, singed to their own label Borstal Beat Records. Before creating Flogging Molly, Irish lead singer Dave King had worked with a number of bands including Fastway, comprised of Motörhead guitarist "Fast" Eddie Clarke, and UFO bassist Pete Way, in addition to the 1991 hard rock band Katmandu.
Known for their unique blend of traditional Irish music and with hard-edged punk rock, the 7-headed monster's live show attracted the attention of SideOneDummy Records. Their debut album on the label "Swagger" blew critics away, and has been referred to as 'music that's perfect for any barroom brawl'. Their next album, "Drunken Lullabies" achieved Gold status, the title track featuring on the video game Tony Hawk's Pro Skater 4.
Influenced by various artists, such as The Pogues, The Dubliners, Johnny Cash, and The Clash, their music ranges from upbeat Celtic punk, like the pirate-themed "Salty Dog", and "Seven Deadly Sins" and "What's Left of the Flag", to softer, more serious songs such as "Far Away Boys" and "The Son Never Shines (On Closed Doors)". Their live show features the full dynamic range found on their recorded works and so much more – don't miss out! Get your tickets to see Flogging Molly TODAY!!