Fox Theater Oakland | Oakland, California
Progressive and alternative rock fans pay attention, there is one VERY big act coming soon to Fox Theater Oakland on Monday 13th November 2017 – none other than the award-winning, genre-transgressing legends that are Elbow!! The brand new album, entitled "Little Fictions," was released February 3rd and will be the focus of Elbow's tour. Don't miss out on your chance to hear the epic new songs live – book your tickets using the "Buy Tickets," button above and secure your place!!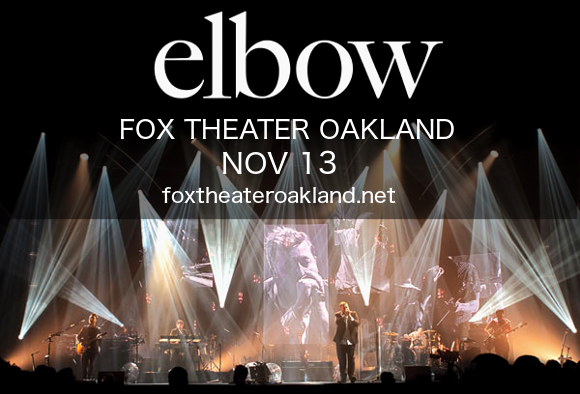 Starting off on the indie rock, guitar-led circuit, Elbow quickly made themselves known for their uniquely elaborate and often orchestral arrangements in conjunction with emotionally evocative, vulnerable topic matter. Elbow had a slow start to achieving mainstream recognition, with the friendship between singer Guy Harvey and guitarist Mark Porter starting up in 1990, the name Elbow being assumed 7 years later, and their first full-length studio album "Asleep In The Back," not released until 2001. Even then, it was not until an alternative edition of the album was released that the title track was discovered by the mainstream and blew up, achieving huge commercial and critical success, going on to earn the band a shortlisting for the Mercury prize.
Since then, Elbow have put out one critically and commercially successful record after another, earning countless awards, playing to millions and selling out stadiums. Their most recent record, "Little Fictions," features a collaboration with The Hallé Orchestra and their choir, and has been released to widespread critical acclaim.
Make sure you're part of the Elbow live experience – get your tickets to see them TODAY!!