Fox Theater Oakland | Oakland, California
Fans of prog rock and concept albums, look no further!! Known for its commitment to providing outstanding entertainment from the world's top talent, Fox Theater Oakland brings you Coheed and Cambria on Friday 14th April 2017! Tickets are currently available for this exceptional show, but be quick – they won't last long!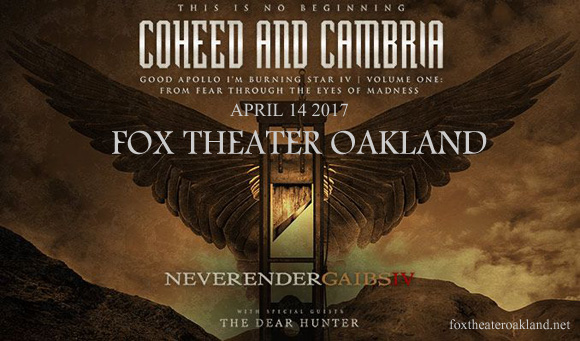 Formerly of the band Toxic Parents, Claudio Sanchez, frontman, and Travis Stevers, guitarist, aimed to create something entirely new, an experience that extended beyond more than just the musical. Influenced by artists including Led Zeppelin, Misfits, Pink Floyd, At The Drive-In and Iron Maiden, they formed the band, originally known as Shabutie, and released their first EP, "Plan to Take Over the World" in 1999. In 2000, their direction became more defined. Their third EP, 2000's "Delirium Trigger" was their first to be influenced by the comic book works "The Bag.On.Line Adventures" written by Sanchez, which would later go on the become "The Armory Wars". The series went on to form basis for all the band's lyrical and musical material, with a name change to "Coheed And Cambria," after the two main characters in the series.
Signing with Equal Vision Records, the band released "The Second Stage Turbine Blade" in 2002, going on to tour with bands such as Linkin Park, The Used, Slipknot, AFI and Trivium, building a devoted fanbase, calling themselves "Children Of The Fence," along the way. Today, Coheed and Cambria are on tour promoting their 2005 album "Good Apollo I'm Burning Star IV, Volume One: From Fear Through the Eyes of Madness," to coincide with the release of a comic book connected with the album.
Children Of The Fence, don't delay – get your tickets to see Coheed and Cambria today!!!