Fox Theater Oakland | Oakland, California
Earlier this year, seminal English rock band Roxy Music were inducted into the Rock and Roll Hall of Fame, and this summer, former Roxy Music songwriter and frontman Bryan Ferry revisits the band's smash hit 1982 album Avalon on a very special US tour! The iconic singer will be coming to Fox Theater Oakland on Saturday 31st August 2019 to perform songs from the album, as well as several of his own hits!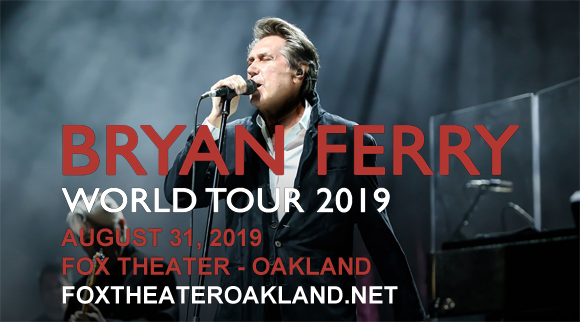 English singer and songwriter Bryan Ferry came to fame as the lead singer and principal songwriter of British art rock band Roxy Music, whose success in the 1970s paved the way for many new wave bands of the 1980s. The group were extremely popular in Europe and the UK, where they charted three number one albums and ten Top Ten singles between 1972 and 1982, including "Virginia Plain", "Street Life", "Love is the Drug", "Dance Away", "Angel Eyes", "Over You", "Oh Yeah", "Jealous Guy", "Avalon" and "More Than This". Ferry began his solo career in 1973, releasing several hits such as "A Hard Rain's a-Gonna Fall", "Let's Stick Together" and "This Is Tomorrow". He left Roxy Music in 1982, after the release of the band's platinum-certified album Avalon. As a both a solo artist and member of Roxy Music, Ferry has sold over 30 million albums worldwide. In 2011, he was awarded a CBE by Queen Elizabeth II and the following year he was awarded the French national honour of Officier de l'ordre des Arts et des Lettres. Roxy Music were inducted into the Rock and Roll Hall of Fame in 2019.