Fox Theater Oakland | Oakland, California
It's the event you've all been waiting for! Bleachers are coming soon for an exciting ONE NIGHT only headline date, LIVE at Fox Theater Oakland on Saturday 30th September 2017! Get your tickets for this very special show that you'll be glad you didn't miss! Bleachers are all that so many can talk about with their wacky, theatrical videos and addictive soundtracks! Come and feel the energy as the crowd goes wild this coming Fall… here's your chance to be a part of something very special!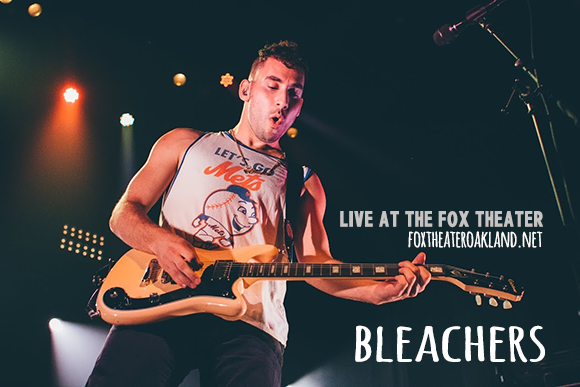 The NYC Indie Pop rockers, Bleachers are the name on everybody's lips right now! With their heavily 1980's influenced sound, they bring something that sounds unique yet familiar. With their background in Film, they have created not just a sound but a whole style to go hand in hand with their energetic single releases, such as the 2014, "I Wanna Get Better."
"I spent the past year working on the music but not talking about it, and eventually it became this psychotic alter-ego situation, where it was second nature to have this part of me that no one knew about. Except for a small group of people, most of which happened to be members of my immediate family, no one was aware that this music, or this album even existed … even though it existed so deeply to me."
These guys continue to churn out the groundbreaking anthems such as their unforgettable tracks, "Rollercoaster," "Don't Take The Money" and "I Wanna Get Better" plus many more… after gaining more fans as an opening act, they are more than ready to now bring it all to a headline performance at Fox Theater – get ready to be there by booking your tickets online. Come and feel uplifted by their music!