Fox Theater Oakland | Oakland, California
Get ready to see one of the biggest breakout acts of recent times. That's right, the incredible talent that is Billie Eilish is on the Wheres My Mind tour with her upcoming debut album, coming to Fox Theater Oakland on Saturday 20th October 2018! Billie Eilish is set to be one of the biggest pop stars of the future, so don't miss out on your chance to see her now! Grab tickets while they last!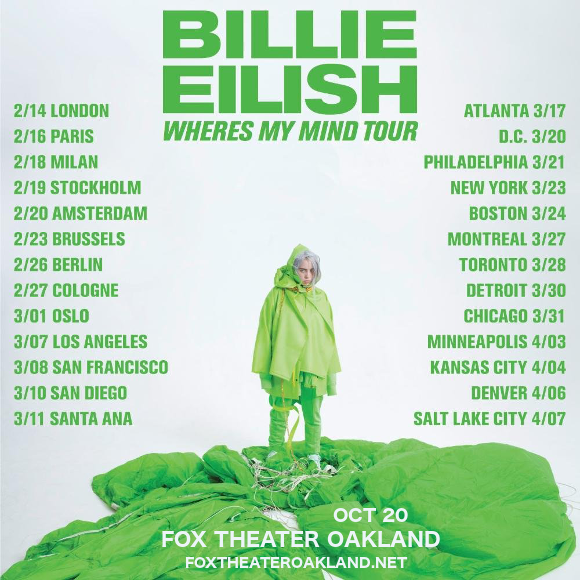 Home-schooled along with her siblings and able to take on a higher level of independence and control of her education and general life directions than the average person her age, Billie Eilish shows an incredible maturity for a 15-year-old – and with regards to skepticism about her youth.
"I wrote my first song at 12 and remember someone asking, 'What were you going through at 12 that you could write about?" she reminisced in an interview. ' I get what you're saying, but 11, 12, 13 were the hardest years of my life. You learn everything. You learn how horrible things feel. You might see a 13-year-old and think they're annoying, but probably in their head they're like, 'I hate this, I hate the way I am, I hate all these people, I don't know what I'm doing or what I'm supposed to do.' Obviously a 50-year-old has gone through more than I have, but that doesn't mean I haven't felt the same pain and the same joy."
Have you got your tickets yet??