Fox Theater | Oakland, California
Massive announcement, EDM fans! Deadmau5 is playing at the Fox Theater Oakland on Tuesday 25th April 2017! Fans of the hot condender for most famous mouse in the world can't afford to miss it!! Tickets won't last long, so don't delay in getting yours – hit the "Buy Tickets" button now to be sure of your place!!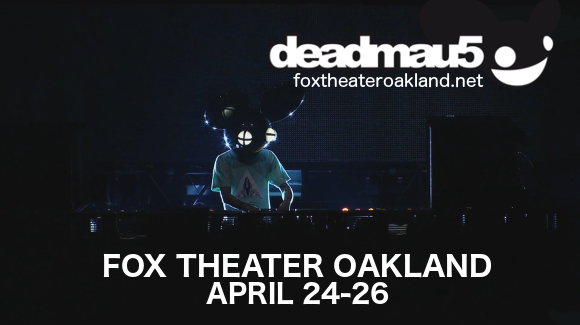 Joel Thomas Zimmerman, known by his stage name Deadmau5, is an innovative force within the progressive house genre, often incorporating and helping to forge other, entirely different genres.
Born in Niagara Falls, Ontario, Canada, of German, Swiss, and English ancestry, he started out on the keyboard as a teenager. After graduating from Westlane Secondary School, he worked for an online music licensing company and as a programmer, starting to work on his electronic music alongside, and creating the stage name Deadmau5, upon finding a dead mouse in his computer!
Influenced by the chiptune and demoscene movements, Deadmau5 began to publish his work on the independent dance site Beatport. His first album, "Get Scraped" generated so much interest that he was able to start his own record label!! With the assistance of Ministry of Sound and Ultra Records, Deadmau5 released "Random Album Title" with the single "Move for Me", a work with producer Kaskade, reached number one on the Billboard magazine's Dance/Mix Show Airplay chart. From then on, Deadmau5 has gone on to dominate the electronic music scene, and is considered to be one of the top electronic music producers in the world!!
What are you waiting for?? Get your tickets to see Deadmau5 TODAY!!!