Fox Theater | Oakland, California
Get ready to see one of the most important and influential bands of all time!! The musicians that inspired Nirvana are back in business and on tour – that's right, the Pixies are coming to the Fox Theater Oakland on the Thursday 7th December 2017! Get ready for an unforgettable night – booking your tickets today! Hugely anticipated event – hurry before tickets sell out!!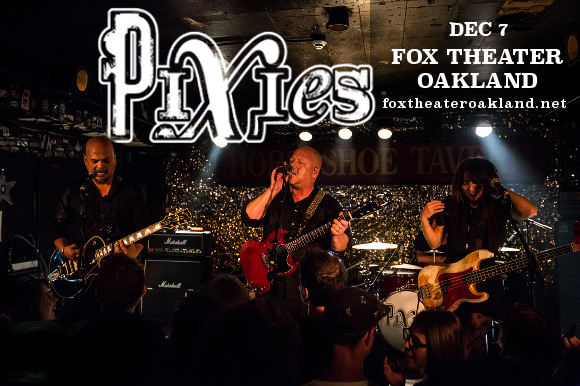 Formed in Boston, Massachusetts, 1983, the band originally consisted of singer/guitarist Black Francis, guitarist Joey Santiago, bassist Kim Deal, and drummer David Lovering. The band found most of their success in Europe, the United Kingdom, and Israel for their first full-length album, "Surfer Rosa," before achieving success in the United States. Their music is comprised of various genres including hard rock, surf rock, and psychedelia, with surreal and strange lyrical content, creating an all-new sound that all but revolutionised music in the 80s!!
After their break up in 1993, the bands popularity exploded. When the Pixies reunited in 2004, 11 years later, it was to play sold-out tours across the US and the world! Now, the Pixies are on tour with their sixth and most recent album, "Head Carrier," released in 2016. Produced by Tom Dalgety and recorded in London, the album is the first to have bass by new bass guitarist Paz Lenchantin. Listen to the first single "Um Chaggga Lagga," below, and get ready for the greatest rock show you've ever seen!
What are you waiting for?? Get your tickets to see the Pixies today!!!