Fox Theater | Oakland, California
British seven-piece collective Jungle comes to Fox Theater Oakland on Tuesday 5th March 2019 to promote its eagerly-awaited second studio album, For Ever! Bringing their sunshine-filled, smooth neo-soul grooves to the stage, the group creates lush, ambient soundscapes that get the hips swinging and the heart singing! Experience tracks like 'Happy Man', 'Heavy, California' and 'Cherry' as you've never heard them before!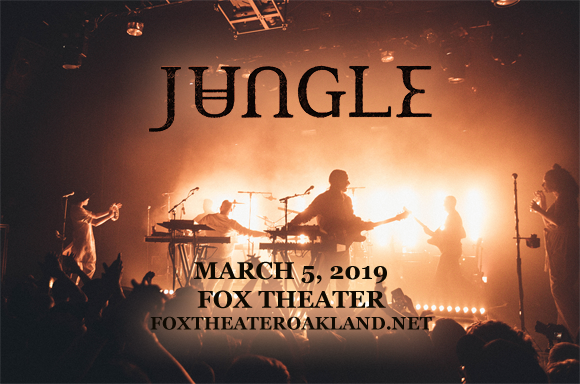 Formed by childhood friends Tom McFarland and Josh Lloyd-Watson (known as T and J) in London in 2013, Jungle is an English modern soul collective. With a sound that fuses 1970s funk influences with "tropical percussion, wildlife noises, falsetto yelps, psychedelic washes and badoinking bass", Jungle has evolved over the years from a duo to a seven-piece band, and incorporates diverse artistic disciplines in its live performance. The group released its debut single "The Heat" through Chessclub Records in 2013 and in December that year it was picked for the BBC's Sound of 2014 prize. 2014 served as the band's breakthrough year – they performed at South By Southwest and Glastonbury festivals and on Jimmy Kimmel Live!, as well as releasing their self-titled debut album, which went on to be nominated for the 2014 Mercury Prize. In 2018, Jungle released its second studio album, For Ever.