Fox Theater | Oakland, California
Get ready for the legendary Deadmau5 live at the Fox Theater Oakland on Monday 24th April 2017! Joined by British-born Feed Me, the two promise a night of the most incredible electronic music you've ever heard. Get your tickets early for this truly unmissable night!!!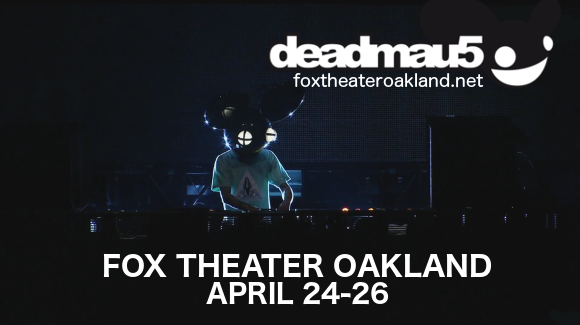 Kicking off his career Ontario, Canada, Joel Zimmerman, the man behind the well-known Deadmau5, started off in the fields of Animation and Web Design before his skills in electronics caused him to shift to music, initially experimenting with the chiptune genre, utilising gaming devices and software to produce the sounds. His debut album, "Get Scraped" was released in 2005, granting him enough popularity to form the Mau5trap label in 2007. In 2009, he released "For Lack of a Better Name" which contained some of his most popular songs, such as "Ghosts 'n' Stuff". Today, Deadmau5 is one of the biggest acts on the electronic music scene!!
Jonathan Gooch, A.K.A Feed Me, started messing around with electronic music in high school in 2005. Influenced by artists such as Hive and Bad Company, he and a friend started to produce under the name "Final Reckoning". Signed by deadmau5 to the Mau5trap label in 2008, he wasted no time in releasing multiple EPs and albums and making a strong name for himself, with "The Spell"/"Raw Chicken" in 2008, to the full-length LP "Feed Me's Big Adventure" in 2010.
Don't miss out on this truly one-of-a-kind EDM show – get your tickets to Deadmau5 and Feed Me TODAY!!!